宜鼎国际SATADOM-ML 3IS4工业闪存模块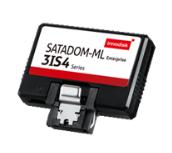 关键字:宜鼎国际,SATADOM-ML 3IS4,工业闪存模块
产品简介:

宜鼎国际SATADOM-ML 3IS4工业闪存模块
产品介绍
产品特色
SATA III solution for Server Boot-Up Drive
Exclusive L³ architecture
DRAM-less, 100% data integrity
Excellent random performance
Designed with hardware LDPC ECC engine
Cost-effective Flash with iSLC
Cable-less through Pin 7/Pin 8 connectors
Hardware write protection supported
High less than 1U
Overview:
Innodisk SATADOM-ML 3IS4 is characterized by L³ architecture with the latest SATA III(6.0GHz) Marvell NAND controller. Innodisk's exclusive L³ architectureis L² architecture multiplied LDPC (Low Density Parity Check). L² (Long Life) architecture is a 4K mapping algorithm that reduces WAF andfeatures a real-time wear leveling algorithm to provide high performance and prolong lifespan with exceptional reliability.
Innodisk SATADOM-ML 3IS4 is designed for server field. The high of the SATADOM suitfor 1U(44.5mm) high server, allow it to fit seamlessly into any server setup. Besides, the main benefit is going to be the ability tousea SATA boot device without using a drive bay.
The innovative Pin 8 uses the SATA connector itself as a power supply to drive the device without external cables. It could be connected directly to the SATA on-board socket on customer's system without additional power cable. Besides, the booting time for operation and the power consumption is less than hard disk drive (HDD), and can work under harsh environmentcompile with ATA protocol, no additional drives are required, and theSSD can be configured as a boot device or data storage device.
规格: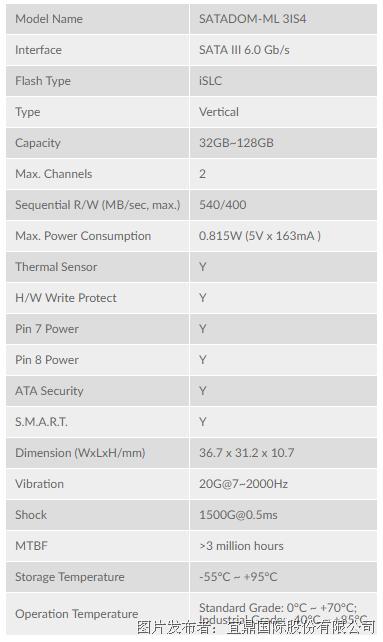 产品料号:
发布时间:2018年3月30日 9:52
人气:
工控网审核编辑:陈磊